It is the headquarter of West Khasi Hills District surrounded by lush green hilly terrain. It is a heaven for adventure lovers. The main attraction of this tranquil hamlet is Nongkhnum Island, which is the biggest river island in Meghalaya and the second largest island in Asia. Another popular attraction among the tourists visiting Nongstoin is Embroidery Stone, which is a natural stone formation that has an embroidered design on it.
Check out some amazing Meghalaya Tour Packages.
---
Place of Interest / Things to do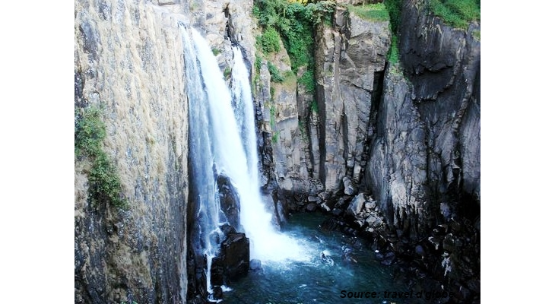 Weinia Falls
Weinia Falls on the river Kynshi and quite near to the Thum falls is a scenic cascade. It is quite deep (depth not yet ascertained), and the water vapour rising up from the bottom of the falls form colours of the rainbow in sunlight. Both sides of the falls are surrounded with rocks of different shapes, sizes, and colours. Massive step-like structures formed by natural agencies are also seen on one side of the falls.

Time taken from Nongstoin: 55 mins 
Langshiang Falls
Langshiang Falls in Meghalaya is presumed to be the third-highest waterfall in India. This hidden gem is a mystery to tourists who travel the West Khasi hills to look for this elusive waterfall, believed to be sighted from Mawpon village. It is an ideal holiday spot for tourists as it is enveloped by scenic beauty all around. It is at its best during the monsoons when the river has abundant water and the flow is more forceful. Panoramic views sighted from the falls is a treat to the eyes.

Time taken from Nongstoin : 55 mins