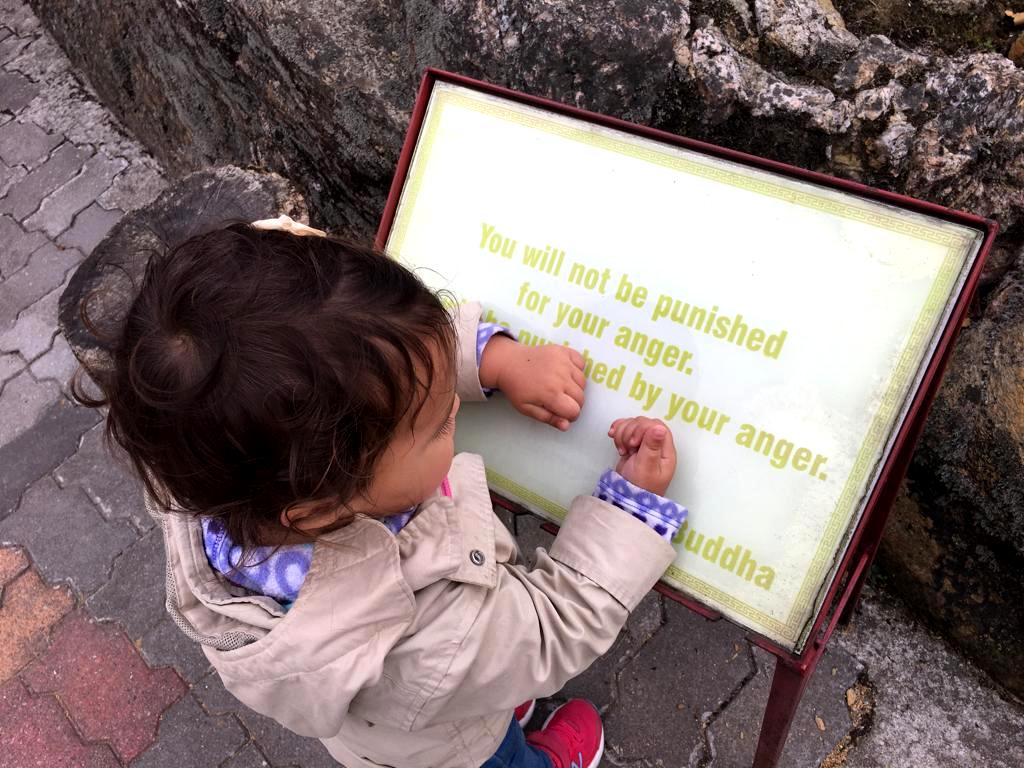 PJ explores the West: How to travel in Sikkim with a toddler
When my daughter, PJ, was 2 months old, we took her on her first long-distance train. I will never forget how nervous I was to take her away from the comfort and safety of home. How would I feed her, change her, and help her to sleep well? I over packed and overstressed to say the least. A few months after that we took her on an international flight that were a 20+ hour journey. This time I felt a bit more relaxed and prepared knowing she survived the train trip. That was only the beginning of her travel journeys in India and abroad!
So, how did we do it? How could we travel with an unpredictable, energetic baby into changing climates and cultures? Let me share with you about our most recent travel in March that included my mother and aunt who were visiting from America. We wanted to take them somewhere special and a bit secluded where they could enjoy the naturally peaceful environment of Sikkim. That led us to planning a round trip through South and West Sikkim.
Before kids, it's amazingly easy to pack (coming from my biased opinion). After kids, there are so many little things that are big game changers. Now keep in mind that I am merging American and Indian parenting ideas here. Some of my suggestions may seem "unnecessary", but when it comes to traveling with a baby or toddler, it's better to lean towards comfort and convenience. Then everyone can enjoy the journey!
Here are my packing suggestions and tips for traveling in Sikkim with a toddler:
More than enough diapers! Our almost two year old was in XL diapers, and they were very rare to find outside of Gangtok. You could also use cloth diapers, just bring extra and bring a baby safe laundry soap.
Ditch the stroller and get a good quality, comfortable carrier. We have a baby carrier that has a wide hip strap and is supposedly good until the child is about 3 years old. Strollers are completely pointless and useless in Sikkim
Bring a few lightweight favorite toys. We brought small cars, legos, and small stuffed animals.
Bring bedtime essentials. PJ needs her stuffed moose and special blanket for sleeping. We love using a white noise machine (highly recommended!). It helps drown out noise, and once I turn it on, she immediately gets sleepy. It's like magic!
If luggage permits, pack a cot, pack and play, or play mat. At home PJ sleeps in her own cot next to our bed. While traveling she shares the bed with us, but for napping during the day, it was nice to put here there for safe sleeping. It was also a great place for her to play.
FOOD! Bring your kid's favorite food and healthy snacks. Have quick cooking food on hand such as oats or atta maggi. We brought a small jar of peanut butter and digestive biscuits. You can buy fruits locally, but healthy snacks are hard to come by.
Hire one taxi for the whole trip. You may think this sounds expensive, but actually when you keep hiring drivers from different hotels that's when it gets more costly! You can conveniently keep unneeded luggage inside, and the driver will become better acquainted with your family and your expectations
Prepare a simple first aid kit with children's medicine: fever reducer, nasal decongestant, and nausea medicine (for driving). Pharmacies were sometimes available but they didn't often have children's medicine. PJ unfortunately got pink eye when we were in Pelling (from feeding biscuits to a dog…oops!). Crazily, there was an eye doctor staying at our hotel AND the hotel manager had extra, unused medicine from when his daughter got it a month ago. Talk about divine healing! But, you can't always depend on luck, so it's better to be prepared.
Pack a variety of layers for your kiddo. West Sikkim tends to be on the colder side, but some days are warm and sunny. Make sure to bring good close-toed walking shoes.
We started our journey from Gangtok to Namchi by going through the Temi Tea Garden. The sun was shining so vibrantly that day like I had never seen before! Every inch of the tea garden was bathed in golden rays. We stopped at a local resort for some tea and snacks eaten on a sun-washed terrace. PJ ran around gleefully while we sipped our chai and took selfies with Mt. Pandim. There is also a tourist cafe where you can drink local tea and purchase a pack to take home. It's the perfect place to take your child for a stroll among the tea bushes!
When we arrived in Namchi, we stayed in a nice hotel that had great reviews on room and food. It even had a lawn for PJ to dash around in after a few hours in the car. The following morning we attempted the newly constructed ropeway from Namchi Bazaar all the way to Samdruptse Monastery. The 4-seater cable car itself is a bit small without a lot of airflow, but the views are worth it! The whole family did great except for me, since I have a slight fear of heights. The new leg of the ropeway from the bazaar travels hundreds of feet in the air above a steep valley. You feel like a bird as you soar from one hill to the next (if you don't look down). The ropeway going just up to Samdruptse is shorter and steeper as it follows closely against the mountain. My toddler did great even though she got quite warm in the cable car.

After a night in Namchi, we headed on to the Barsey Rhododendron Forest. The area is quite isolated and, it can be difficult to find lodging if not booked in advance. The hike itself, however, is perfect for young children or carrying a child on your back. It is mostly flat and well kept, so our toddler was able to walk some herself. The best time of the year is around April if you want to see the forest in full bloom!
Many people would shorten their travel by going straight from Barsey to Pelling. With a toddler, however, it's better to split up the trip and allow for some down time outside of the car. That's why we decided to never travel more than 3-4 hours at a time. Between Barsey and Pelling, you can stop in the quaint little town of Kaluk. There are a couple of great hotels and resorts you can enjoy. We stayed in one that had a garden for PJ to play outside. The place is so peaceful and close to nature. Perfect for the curious toddler!
In Pelling, you will find a huge gamut of hotels, resorts, and spas. We chose a hotel in the upper-middle selection, so that we could ensure clean, spacious rooms and safe food. Honestly, we enjoyed our hotel on the outskirts so much we didn't leave to see much of the town. What's great about Pelling is the breathtaking view of Khangchendzonga. My mom and aunt woke up around 6:00am to catch the sunrise wiping across the majestic face. We slept in a bit with our kiddo but still got some great views later in the morning.

After Pelling, we decided to venture to the trailhead of the Goecha La Trek in Yuksom. This town, on the fringe of civilization, has a rich history as the ancient capital of Sikkim. Here you will find cobblestone streets and moss-covered pasture lands. I enjoyed taking PJ for walks around the town and meeting international folks getting ready for their first trek in Sikkim.

We came back to society the next day as we drove towards Ravangla. We stayed at a hotel that was within walking distance of the infamous Buddha Park. I highly recommend Buddha Park with any age child. It is Sikkim's largest pedestrian park with plenty of green grass and paved sidewalks. PJ loved running here and there, greeting strangers and climbing rocks. Inside the giant Buddha, there is a spiral museum where you can learn about the birth and life of Buddha himself. It is eloquently illustrated by professional murals, and each picture has a well written description. Very enlightening!