Trek to Goecha La
Duration :11 days, 10 nights
PRICE: INR 16500 per person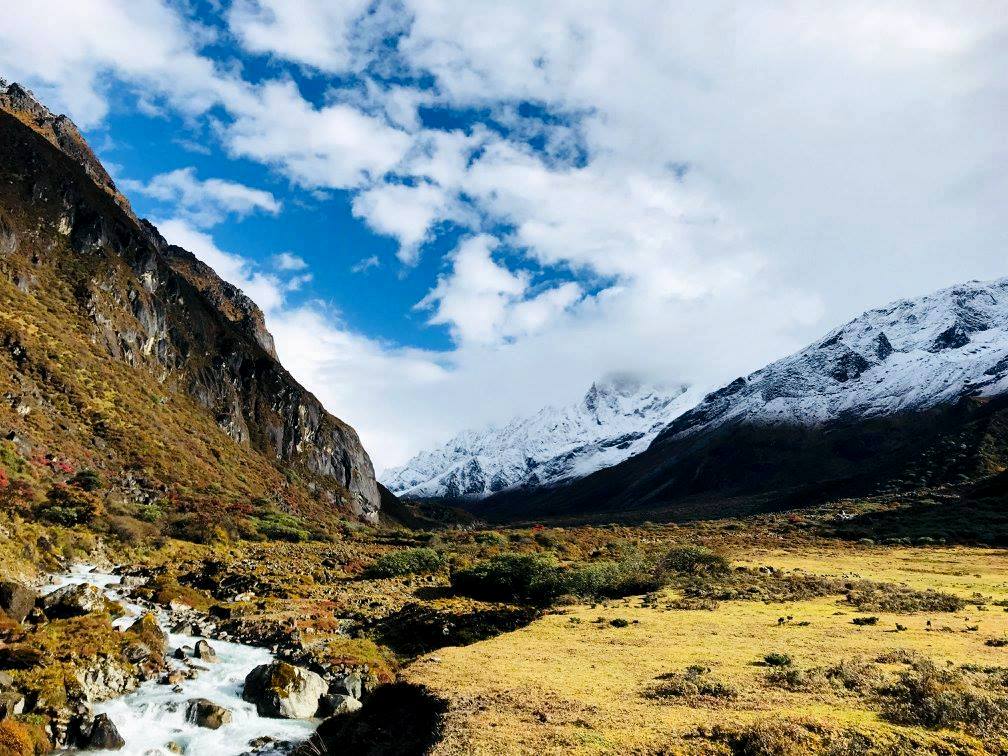 DAY 1:
Gangtok/Siliguri - Yuksom
After your arrival at NJP/Bagdogra, drive on to Yuksom. Travel time is around 6-7 hours through the hills.
If time permits, you could visit some top local attractions in and around Yuksom such as Dubdi Monastery, the Coronation Throne (Norbhu Gang), and Kathok Lake. Yuksom is a historically important place for Sikkim as it was the first capital of Sikkim in 1643 AD.
You will stay overnight in a homestay in Yuksom.
DAY 2:
Yuksom (1750 m) to Sachen (2250 m) 8 km
You will be trekking to the first campsite at Sachen today. This is a fairly easy walk and helps trekkers to find their rhythm and gradually get used to the demands of the trail. The distance you will be covering is 8 km and it usually takes 3.5-4.5 hours for most trekkers.
Note: Trekkers tend to skip this campsite at times; however, this is not recommended unless you are a seasoned trekker who has done multiple 800 m single-day altitude gains before.
DAY 3:
Sachen (2250 m) - Tsohka (2960 m) 8 km
Today's trek starts begins with an easy start from Sachen and takes about an hour before reaching the bridge across Prek Chu (chu means river). From the bridge to Tsokha is a straight ascent of about 5 km and is a good introduction to the climb the next day. Bakhim (meaning bamboo hut) breaks the climb. There is a tea stall at Bakhim where you can rest and enjoy the views of the valley below. Trekkers are often astonished at how much they have climbed in the previous hour and a half. 
Rhododendron trees abound around Bakhim and here onwards till you are above the tree line they will remain a constant companion. It is a further hour and a half to Tsokha.  

DAY 4:
Tsohka (2950 m) - Dzongri (3950 m) 10 km
This day is often referred to as the "test day" as it is a relentless and fairly steep climb from Tsokha to Dzongri. You will gain altitude fast, and it is important to not rush up the slope. Time the ascent to reach Dzongri in about 5-6 hours. If you start at 8 am, you can comfortably reach by 2 pm. 

The trail passes via Phedang, which almost slices the walk into half. It looks like a possible campsite but teams do not prefer to camp here because of lack of water near the campsite (the nearest water source is a 20-min walk one way). Thus, your group will rest here for a while, have your packed lunch/rations that were provided to you in the morning, and proceed to Dzongri. 

In an hour you will come across Deorali Top, the highest point on this day at over 4100 m.From here on the trail eases out and and descends slightly to Dzongri. Many people upon arrival experience a mild headache due to the 1000 m effective gain. Make sure you stay warm and hydrated. Let the guide/team leader know about any headache  or health issue. Usually the headache should subside in a couple of hours. 
Note: There is no water source on the trail on this day, and trekkers must fill up at Tsokha and ration the water wisely.
DAY 5:
Rest day
Today you will stay back in Dzongri and take rest. For the restless, you can wake up early and walk up to Dzongri Top to see a full panoramic view of all the snow-capped mountains at sunrise. One can see atleast 10 peaks here including Kokthang, Rathong, Frey's Peak, Black Kabur, Kabru Dome, Kabru north and south, Khangchendzonga, Pandim, Tenzingkhang, Jopuno, and Narsing. 

DAY 6:
 Dzongri (3950 m) - Kokchurang (3500 m) - Thangshing (3700 m) 8 km
You will ascend a little from the Dzongri campsite and then walk through meadows with gentle up and down slopes till you arrive at the steep descent to the Kokchurang campsite by the Prek Chu. The descent is challenging for almost everyone and can take around an hour. 
Kokchurang campsite is nestled in a dense forest by the river side, and it is a perfect spot to rest for a while. We do not set up camp here. After some rest, we proceed to Thangsing, our camp for the night, through some more beautiful forest landscapes.
On a clear day, the Thangsing campsite gives you a welcome gift of outstanding views of Mt. Pandim right upon arrival. Thangshing is a wide open field, and you will often find trekkers or local staff playing cricket, football, or volleyball here. Join in for some fun.
DAY 7:
Thangshing (3700 m) - Lamuney (3960 m) 4 km
It is the simplest day of the trek. A very gradual gain from Thangsing will take you to Lamuney in 1.5 hours. The trek will start late around 10 am, and you will reach Lamuney by 11:30 am. Relax at the camp, and enjoy the peace and tranquility. The following morning, you will be up early and leave for view point 1 around 2:30 am.

DAY 8:
Lamuney (3960 m) - Samiti Lake - Goecha La (5000 m) - Kokchurang (3500 m) 18 km
The day starts early at 2:30 am. It will be biting cold at this hour and you must be prepared for it. Typically the temperature will be below zero when you start. So start slowly and cross the Samiti Lake in the dark on your way up to the view point. The start is timed to take you the view point around first light and before the sunrise, which is amazingly beautiful as the first sunlight falls on the peaks. The sunrise is pure magic. Peaks light up in the descending order of altitude, with Khangchendzonga first to be lit followed by Kabru north and then the lower peaks in order. 
The route used to be open right up to the Goecha La earlier. However, the national park authorities have closed the route beyond view point 1 now as the zone beyond it has been identified as having significant concentration of blue sheep and snow leopards. This area is a breeding zone for these species and has been demarcated as a conservation zone to reduce human interference. Carry a pair of binoculars with you to give yourself a chance of spotting a rare leopard or a flock of blue sheep. 
You will descend to Samiti Lake on your way back to the camp around 8 am.
At Samiti Lake, you can witness the perfect reflection of the surrounding peaks in its usually calm waters. You will also find several birds out and about, making the area around the lake a great place for photography aficionados. 
You will come back to camp at Lamuney, have an early lunch, and move down to Kokchurang campsite next to the river. It will be warmer here and of course very beautiful.
Overnight stay at the camp in Kokchurang. 
DAY 9:
Kokchurang (3500 m) - Tsokha (2950 m) 15 km 
You will be taking a walk from Kokchurang to Phedang through a very dense forest. Rest assured that you will not come across an animals during your walk due to the narrow nature and dense vegetation on the trail. For several hours you will have to walk through forests that might remind you of the forests in the Indian Western Ghats during monsoons. 
This part of the trail typically takes about 4-5 hours. You can have the packed lunch provided to you here. 
From Phedang you have to turn left and down towards Tsokha. It is a continuous descent up to Tsokha and takes up to 2 hours.
Overnight stay at camp.
DAY 10:
Tsohka (2950 m) - Yuksom (1750 m) 16 km
This day will be your last day of the trek, which will take you back over the same route you took to come up. You will descend all the way to the suspension bridge over Prek Chu below Bakhim. It can take anywhere between 1.5 to 2.5 hours. You will find the bridge there and will have to climb for about 20 mins after which the trail takes you over gentle ups and downs while constantly losing altitude towards Yuksom. Expect yourself to reach Yuksom in about 5-7 hours. You will have packed lunch on this day as well, and Sachen is a good point to take a break. 
As you near Yuksom, mobile networks will become active again. You will finally reach the road head, marking the end point of the trek. 
Overnight stay in Yuksom Homestay.
DAY 11:
Yuksom - Gangtok/Siliguri
Departure for next destination.
INCLUSIONS
•  Kitchen and dining tent
•  Sleeping tent 2 /3 man dome or alpine, mess tents, & toilet tent
•  All meals during trek
•  Guide, cook, kitchen helper
•  Porters & pack animals
•  First aid medical box and oxygen cylinder. 
•  Hotels/homestay in Yuksom
•  Trek permit
•  K N P fees (Khangchendzonga national park fees)
EXCLUSIONS
• Transport from Bagdogra airport/NJP railway station/Gangtok to Yuksom
•  Meals in Yuksom Home stay.

•  Camera fee, any up-gradation charges.
•  Travel insurance.
•  Cost for evening snacks & tea, Alcohol, Soft Drinks, bottled water.
•  Cost for service not mentioned under the "cost includes" head.
•  Personal expenses such as laundry, soft drinks, mineral water, porter, tip etc.
•  Hire charges for porter/ pack animals for carriage of personal baggage.
•  Any charges for carrying still/video cameras etc.
•  Difference in cost arising due to extra usage of vehicle other than scheduled mentioned in the itinerary.
General Terms
•  In case the group size increases or decreases, the rates will change
•  Transportation can be arranged on request from Bagdogra airport/NJP railway station/Gangtok to Yuksom

•  General indemnity bond to be signed by all participants.
•  Smoking and drinking alcohol is prohibited.
•  Guide/escort/representative of the TourGenie team's decision will be final and binding.
•  TourGenie team reserves all the right to change/deviate/cancel the plans without prior notice.
•  All members should carry one Government-issued photo identity card.
ENTRY POINTS
Bagdogra (IXB)
N.J.P. (New Jalpaiguri
S.N.T. (Sikkim Nationalised Transport)