Trek to Dzongri
Duration :8 days, 7 nights
PRICE : Make enquiry to get price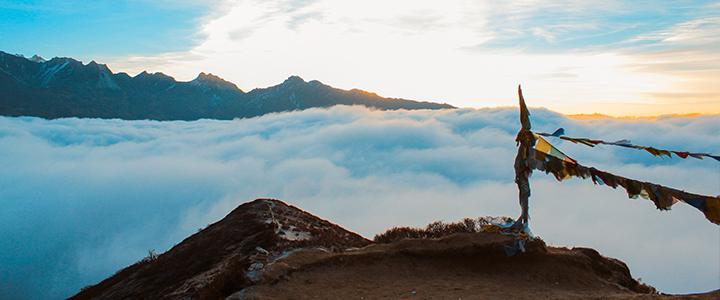 DAY 1:
Gangtok/Siliguri - Yuksom 
After your arrival at NJP/Bagdogra, drive on to the peaceful village of Yuksom in West Sikkim. You will pass through the scenic towns of Ravangla, Legship, and Tashiding.
If time permits, you can go and visit the local attractions such as Dubdi Monastery, Katok Monastery, Norbughang-Coronation Throne, Kathok Lake, and KCC Interpretation Center. Yuksom is historically important because it once served as Sikkim's first capital.  
Your overnight stay is in Yuksom.
DAY 2:
Yuksom (1750 m) – Sachen (2250 m) 8 km
You will be trekking to the first campsite at Sachen today. This is a fairly easy walk and helps trekkers to find their rhythm and gradually get used to the demands of the trail. The distance you will be covering is 8 km and it usually takes 3.5-4.5 hours for most trekkers.  
Note: Trekkers tend to skip this campsite at times; however, this is not recommended unless you are a seasoned trekker who has done multiple 800 m single-day altitude gains before.
You will be camping the night in Sachen.
DAY 3:
Sachen (2250 m) – 
Tshoka (2950 m) 8 km
Today's trek starts begins with an easy start from Sachen and takes about an hour before reaching the bridge across Prek Chu (chu means river). From the bridge to Tsokha is a straight ascent of about 5 km and is a good introduction to the climb the next day. Bakhim (meaning bamboo hut) breaks the climb. There is a tea stall at Bakhim where you can rest and enjoy the views of the valley below. Trekkers are often astonished at how much they have climbed in the previous hour and a half. 
Rhododendron trees abound around Bakhim and here onwards till you are above the tree line they will remain a constant companion. It is a further hour and a half to Tsokha.  
DAY 4:
Tsokha (2950 m) –
 Dzongri (3950 m) 10 km
This day is often referred to as the "test day" as it is a relentless and fairly steep climb from Tsokha to Dzongri. You will gain altitude fast, and it is important to not rush up the slope. Time the ascent to reach Dzongri in about 5-6 hours. If you start at 8 am, you can comfortably reach by 2 pm. 
The trail passes via Phedang, which almost slices the walk into half. It looks like a possible campsite but teams do not prefer to camp here because of lack of water near the campsite (the nearest water source is a 20-min walk one way). Thus, your group will rest here for a while, have your packed lunch/rations that were provided to you in the morning, and proceed to Dzongri. 
In an hour you will come across Deorali Top, the highest point on this day at over 4100 m.From here on the trail eases out and and descends slightly to Dzongri. Many people upon arrival experience a mild headache due to the 1000 m effective gain. Make sure you stay warm and hydrated. Let the guide/team leader know about any headache  or health issue. Usually the headache should subside in a couple of hours.
Note: There is no water source on the trail on this day, and trekkers must fill up at Tsokha and ration the water wisely.
DAY 5:
Rest day
Today you will stay back in Dzongri and take rest. For the restless, you can wake up early and walk up to Dzongri Top to see a full panoramic view of all the snow-capped mountains at sunrise. One can see atleast 10 peaks here including Kokthang, Rathong, Frey's Peak, Black Kabur, Kabru Dome, Kabru north and south, Khangchendzonga, Pandim, Tenzingkhang, Jopuno, and Narsing. 
DAY 6:
Dzongri (3600 m) –
Tshoka (2950 m) 10 km
The walk from

 

Dzongri to Phedang passes through Dzongri Top at 4100 m.and then a steep descent to Phedang. From Phedang you will walk down towards Tsokha. This is a continuous descent and takes upto 2 hours. 
DAY 7:
Tshoka (2950 m) – Yuksom (1750 m) 16 km
You will be trekking back to Yuksom. The trek will take you back over the same route you took to come up, descending all the way down to the suspension bridge over Prek Chu below Bakhim. It can take anywhere between 1.5 to 2.5 hours. From the bridge there is a climb for about 20 minutes after which the trail takes you over gentle ups and downs while constantly losing altitude towards Yuksom. Your trek to Yuksom will take about 5-7 hours, with a lunch break in between at Sachen. As you near Yuksom, mobile networks will become active again. Reaching the road marks the end point of the trek. 
After a hard day of trekking, a cozy bed and hot water will be waiting for you at your hotel/home stay.
DAY 8:
Departure
After breakfast you will proceed on your onward journey.
We hope you take back happy memories and await your return for another exciting trip with us.
INCLUSIONS
•  Kitchen and dining tent
•  Sleeping tent 2 /3 man dome or alpine, mess tents & toilet tent
•  All meals during trek
•  Guide, cook, kitchen helper
•  Porters & pack animals
•  First aid medical box and oxygen cylinder 
•  Hotels/homestay in Yuksom
•  Trek permit
•  K N P Fees (Khangchendzonga national park fees)
EXCLUSIONS
• Transport from Bagdogra airport/NJP railway station/Gangtok to Yuksom
•  Meals in Yuksom homestay
•  Camera fee, any up-gradation charges.
•  Travel insurance.
•  Cost for evening snacks & tea, alcohol, soft drinks, bottled water.
•  Cost for service not mentioned under the "cost includes" head.
•  Personal expenses such as laundry, soft drinks, mineral water, porter, tip etc.
•  Hire charges for porter/ pack animals for carriage of personal baggage.
•  Any charges for carrying still/video cameras etc.
•  Difference in cost arising due to extra usage of vehicle other than scheduled mentioned in the itinerary.
General Terms 
•  In case the group size increases or decreases, the rates will change.
•  Transportation can be arranged on request from Bagdogra airport/NJP railway station/Gangtok to Yuksom

•  General indemnity bond to be signed by all participants.
•  Smoking and drinking alcohol is prohibited.
•  Guide/ escort / representative of the TourGenie team's decision will be final and binding.
•  TourGenie team reserves all the rights to change/deviate/cancel the plans without prior notice.
•  All members should carry one Government-issued photo identity card.
ENTRY POINTS
Bagdogra (IXB)
S.N.T (Sikkim Nationakised Transport)
N.J.P (New Jalpaiguri)