Sikkim Historic and Monastic Tour
Duration :13 days, 12 nights
PRICE : Make enquiry to get price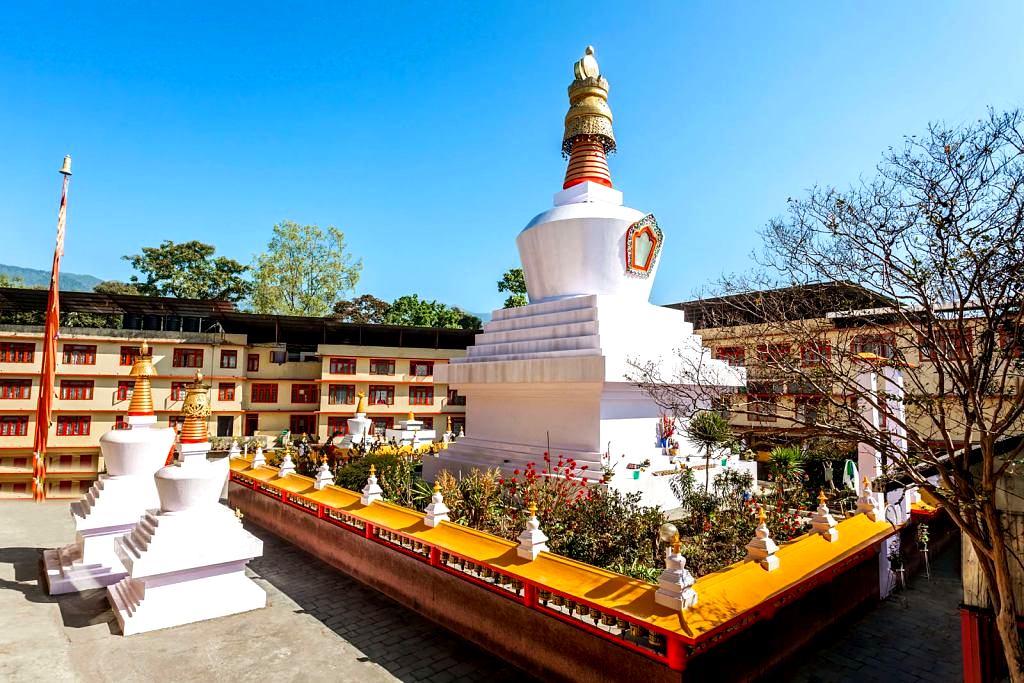 DAY 1:
Bagdogra – Gangtok 
You will be welcomed on your arrival at Bagdogra Airport after which you will drive up to the pleasant hill town of Gangtok. The verdant hills and the majestic green-hued River Teesta make up the scenic journey, which will take around 5 hours.
After your hotel check-in, you are free to spend your time at leisure at MG Marg, Gangtok's bustling town centre.
Head back to your hotel for a good night's sleep.
DAY 2:
Monastic Sightseeing Tour  
Monasteries are an integral part of Sikkim's culture and are artistic marvels in terms of architecture. Out of the 200 odd monasteries in Sikkim, you will be visiting a few important ones tied with fascinating histories. Your tour today will help you experience transcendent peace as you encounter red-clad lamas, flickering butter lamps, colorful prayer flags, and melodious chanting in the ambiance of the monasteries. 
Enchey Sangag Rabtenling Monastery –This monastery was first established in 1840 and rebuilt in 1909. It is believed that this monastery was built on the spot where the flying saint Drubthob Karpo who had special flying powers initially meditated. Later another hermit named Karma Sherab came to this spot for a retreat and amazingly he too acquired the powers of flying. This gave the place its religious significance. 
Lingdum Zurmang Kharwang – Fairly new, this monastery was established in 1999. It is known as a place for offering communal prayers. Prayers for well-being and lighting of 108 lamps will be organized for your group members at the monastery.
Rumtek Dharma Centre – This monastery was founded in 1962. It preserves unique Ters (religious artifacts), and the holy crown of the late 16th Gyalwa Karmapa, said to have woven by the Dakinis (a type of sacred female spirit in Vajrayana Buddhism), is said to be one of them.
The famous Kagyed Dance festival is celebrated here. The masked dance, performed by the monks, symbolizes the destruction of the evil forces before the advent of the New Year. The dance is performed on the 28th and 29th day of the 10th month of the Tibetan Calendar; this day usually falls in the month of December. If you want to witness this vibrant festival, plan your travel dates around this time.  
Namgyal Institute of Tibetology – This institute was established with the purpose of sponsoring scholars and promoting research on the religion, history, language, art, and culture of the people of the Tibetan cultural area. A museum in the same vicinity contains a rare collection of statues, ritual objects, traditional art objects, thangkas (painted, woven and embroidered scrolls), and ancient manuscripts in Sanskrit, Tibetan, Chinese and Lepcha. 
Do Drul Chorten – This stupa has a complete set of Dorjee Phurba, Kangyur (holy books), and other religious objects. Around the stupa are 108 Mani or prayer wheels.
After the conclusion of your tour, you will head back to your hotel for the night. 
DAY 3:
Gangtok – Lachen 
A special early morning trip has been arranged to take you to Tsuklakhang, the royal chapel of Namgyals of Sikkim 
After breakfast, you will drive to the picturesque North Sikkim town of Lachen, which forms the base to Chopta Valley and the stunning Gurudongmar Lake. The local inhabitants of Lachen are called Lachenpas: the Bhutia tribe, which had migrated from Tibet into Sikkim, Nepal, Darjeeling, and Kalimpong came through different passes in the Himalayas. Based on the geographical indications, the inhabitants of Lachen (Tibetan: "big pass") came to be known as Lachenpas, and the inhabitants of Lachung (Tibetan: "small pass") came to be known as Lachungpas.
En route you will halt at Planters Home, Mangan, to enjoy a delicious lunch cooked using locally grown farm ingredients.
The drive will take you past numerous waterfalls, and you will able to enjoy a quick stop at Naga Waterfall before reaching Lachen.  
You will be staying the night in Lachen.
DAY 4:
Lachen 
After a hearty breakfast you will drive to Kelep Village. On this beautiful 1.5 to 2 hour drive, you will cross the Zema Chu River. This glacial river originates from the largest glacier of Mount Khangchendzonga.
Once you arrive in Kelep Village, you will hike up to Deuthang Cave, made popular because of famous French explorer Alexander David Neel who meditated inside it for 11 years. The trail will pass through a lush green forest of cedars and pines. Once you reach the top, you will get beautiful views of the valley below and the Lachen Chu River. Post lunch you will start your hike back to Kelep Village.
You will drive back to Lachen for the night.
DAY 5:
Lachen - Lachung 
After breakfast you will be taken on a leisure walk to a 160-year-old Lachen Monastery. This monastery contains a  small casket containing a flat stone bearing the amazing footprint of the Kham Gomchen who stayed at Thangu Monastery along with a stone shaped like a 'Tshebum' or vase of longevity. As expected, there is a fascinating story related to this, which will be retold at the site. You can visit Namo Lakhang situated near the monastery.
Next, you will hike on a fascinating bird trail that starts from near the monastery and goes above Lachen Village. Some of the commonly seen birds you may spot are blood pheasants, kalij pheasants, satyr tragopan, accentor, and finches. 
You will drive on to Lachung and stay there for the night.
DAY 6:
Lachung – Yumthang
The village of Lachung is situated close to the Tibetan border and is divided by the Lachung River. Nearby is Yumthang Valley, which is a popular destination because of its pine forests, hot springs, and waterfalls. The Shingba Rhododendron Sanctuary is also situated here and is known to preserve many species of rhododendron.
You will enjoy an exciting excursion to Yumthang Valley today. Be ready to be pleasantly shocked and amazed at the natural beauty of this pretty valley.
Your overnight stay is in Lachung.
DAY 7:
Lachen – Dzongu
After breakfast, you will drive to Dzongu in North Sikkim. This is the preserved land of the Lepcha tribe, the original inhabitants of Sikkim. As the protected area is demarcated solely for the Lepcha community, outsides are not allowed to settle here; hence, preserving the genetic purity of the tribal population. 
En route you will enjoy a delicious lunch at Planters Home, Mangan, cooked using locally grown farm ingredients.
In Dzongu, we've arranged a short interaction session just before dinner with the locals.
You will spend the night at a homestay in Passingdang (upper Dzongu).
DAY 8:
Dzongu 
Villages in Dzongu (and all over Sikkim) are a delight to visit. They are wonderful reflections of the local traditions and culture, which can be found in the inhabitants and their way of living. We will take you on a short tour of a few of these villages to gain a delightful insight. 
You will be visiting Lower Dzongu villages of Namprikdang, Sangkhalang, and Hee Gyathang. At Namprikdang, you will visit a traditional Lepcha House and at Hee Gyathang the sacred lake of Tung Kyong. 
After lunch at the homestay, you will head to the Lingdem Hot Springs, where you can take a therapeutic bath, and Lingzya Waterfalls.
In the evening relax during a get-together with the locals.
You will spend the night at a homestay in Passingdang. 
DAY 9:
Dzongu – Rabongla 
Post breakfast, much of you day will be spent driving to Rabongla, a small tourist town located at an elevation of 8000 ft. 
You will be staying the night in Rabongla.
DAY 10:
Rabongla   
This quaint south Sikkim town has quite a few interesting tourist attractions that you will visit, namely Tathagat Stal, Bon Yung Dung Monastery, and Ralong Karma Rabtenling Monastery. 
A major festival of Sikkim called Pang Lhabsol is celebrated in Ralong Monastery. This festival is unique to Sikkim and commemorates the consecration of Mount Khangchendzonga as the guardian deity of Sikkim. It is believed that the mountain god played an active role in introducing Buddhism into this former kingdom. It usually occurs in the month of August or September. If you want to be a part of this intriguing festival, plan your travel dates around this time. 
In the evening you will attend an interesting talk on Tibetan calligraphy, given by an expert calligrapher.
Your overnight stay is in Rabongla. 
DAY 11:
Rabongla – Pelling  
Today you will depart for Pelling, a small hill town in West Sikkim. Pelling is a quiet yet delightful town and is visited for its natural beauty and historical significance. 
You will visit Rabdentse Palace Ruins & Pemayangtse Monastery.
Enjoy an evening discourse on Buddhism by Khenpos/Lopens of Sangchen Pemayangtse Monastery
Your overnight stay is in Pelling
DAY 12:
Pelling & Yuksom
Your day will be spent in visiting some fascinating religious Buddhist sites in Pelling and nearby Yuksom.
Sangacheoling Monastery – This monastery is claimed to have been founded by the patron saint of Sikkim. This is the only Lhakhang that contains the statues of the local guardian deities of various "Nay" (sacred caves or pilgrim sites of Sikkim).
Chenrezig Statue – The golden statue of Chenrezig, the earthly manifestation of the Compassionate Buddha, is the world's tallest statue, standing tall at 137 feet. A new sky walk has been built at the site.
Khecheopalri Lake – Buddhist saints sanctified this lake and gave it the sacred name of "Khachoedpalri," which means "mountain of blissful heaven." It is recognized as an abode of 'Tsho-sMan Pemachen' the protective nymph of the Buddhism, and hence, is considered a sacred pilgrimage site.
DAY 13:
Pelling – Bagdogra
It's time to depart from Pelling to Bagdogra Airport. We hope you take back wonderful memories, and we look forward to becoming your travel partner again on another fun-filled trip.
INCLUSIONS
GST @ 5% or as applicable.
Meet & greet upon arrival.
All applicable transfers & sightseeing as per the itinerary (vehicle will not be at your disposal).
Accommodation on the mentioned hotels for duration mentioned in the itinerary
Accommodation on MAP basis (room + breakfast & dinner)
Lunch during sightseeing/transfers.
Permits for restricted/protected areas.
English-speaking guide throughout the trip.
Protected area permits & entre fee for monuments and parks.

EXCLUSIONS
Travel insurance.
Camera fee, river cruise, any up-gradation charges.
Cost for evening snacks & tea.
Cost for service not mentioned under the "cost includes" heads.
Cost for airfare, train fare, or any other internal fare.
Personal expenses such as laundry, soft drinks, mineral water, porter, tip etc.
Difference in cost arising due to extra usage of vehicle other than scheduled mentioned in the itinerary.
ENTRY POINTS
Bagdogra (IXB) ,Pakyong(PYG)
New Jalpaiguri (N.J.P. )
Sikkim Nationalised Transport (S.N.T)