It is a small town situated on the ridge between the Meanam and Tendong hills in South Sikkim. Ravangla has turned into a natural tourist resort owing to its magical snow view and tranquility. Ravangla stages the Pang Lhabsol festival in a grand manner every year around August-September.
Check out the best South Sikkim tour package
---
Place of Interest / Things to do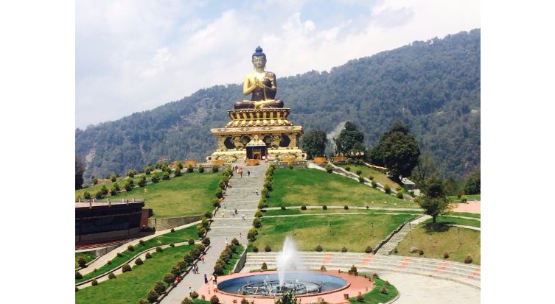 Buddha Park
The Buddha Park of Ravangla, also known as Tathagata Tsal, houses a beautiful statue of Sakyamuni Buddha. The colossal statue is clearly visible from some parts of West Sikkim. The park area is attractively designed to create ample walkways, gardens, and space for visitors to enjoy its peaceful surroundings. The views of the mountains and the spiritual ambiance of the location add to the visitor experience. You can also visit the museum, meditation centre, and the Buddhist conclave in Buddha Park. 

Time taken from Ravangla: 7 mins
Ralang Monastery
Ralang Monastery is a Buddhist monastery of the Kagyu sect of Tibetan Buddhism. According to legend, Ralang was built after the fourth Chogyal came back from his pilgrimage, when the 12th Karmapa performed the Rabney (blessing). He threw grains from his residence in Tsurphu Monastery in Tibet and where the grains fell, eventually, became the site for the Ralang Monastery.

Time taken from Ravangla: 35 mins.