The little beautiful town of Pelling is situated 130 km away from Siliguri and 115 km from Gangtok in Sikkim. This town is known for its breathtaking views of Mt. Khangchendzonga, the third highest peak in the world. This little town has unpredictable weather; within minutes it can change from bright and sunny to gloomy clouds. It's better to carry an umbrella with you. However, this hide and seek between the sun and clouds makes this place an ever pleasant destination. Pelling promises to be an amazing one day treat, and a visit here is a must. 

---
Place of Interest / Things to do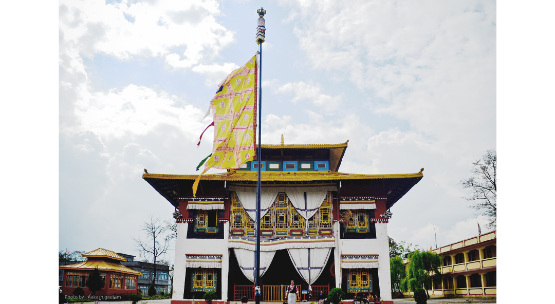 Pemayangtse Monastery
The ancient Pemayangtse monastery dates back to 1705. This is a three-storied structure and includes Buddhist teachings in contrasting colorful patterns. It belongs to the Nyingma-pa sect of Buddhism. Pemayangtse literally means 'Perfect Sublime Lotus'. Don't miss the 'Cham' dance if you are here during January. 

Time taken from Pelling: 33 mins.
Rabdentse Ruins
History freaks will have a great time exploring the Rabdentse ruins, also the ancient capital of Sikkim. The ruins of Rabdentse Palace lies just a few kilometers from the Pemyangste Monastery on the way to Pelling. Sikkim is a mystical land with a number of ancient monasteries and intriguing places to visit; Rabdentse is one such place. An interesting signboard of this ancient site on the highway to Pelling reads "Follow the Path and you will reach the Palace". The palace ruins are at the centre of the fourth courtyard. The ruins that stand today are only a part of the palace. There was a separate portion for the royals and the commoners. Only a part of the palace remains today. This is where the kings of Sikkim had ruled and what a wonderful place for the palace!

Time taken from Pelling: 15 mins.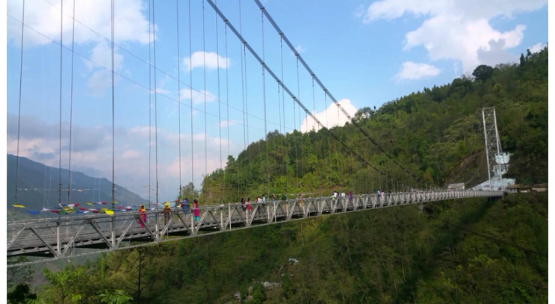 Singshore bridge
The Singshore bridge is considered the highest bridge in the entire state and the second highest suspended bridge in Asia. It sprawls across a length of 198 metres and is 220 metres deep. The bridge offers a spectacular view of the verdant hillsides, overwhelming waterfalls, and the pristine valley.