Phobjikha Valley is a small town in the central part of Bhutan. Like many other beautiful places to see in Bhutan, Phobjikha is bestowed with valleys and is surrounded by mountains and lush greenery. The place is known for its beautiful landscapes and passes and a day's hike will take you through the town woods, and valley.
Phobjikha Valley is a vast U-shaped glacial valley. It is also known as Gangteng Valley. Phobjikha Valley offers beautiful landscapes ideal for walking and hiking.
Phobjikha Valley also goes by the name "Valley of black-necked cranes" as this endangered species migrates to this valley every year during winters. There is a Black-Necked Crane Information Centre in Phobjikha Valley where you can get information about this migratory bird. The center also has an injured black-necked crane, which you can observe at close range.
A special 9-day festival is held in Phobjikha Valley every year to celebrate the arrival of the black-necked cranes to the valley. The Black-Necked Crane Festival is celebrated at Gangtey Goenpa in Phobjikha Valley.
Tsechu is another important festival held at Gangte Goemba(monastery) in Phobjikha Valley where you can witness cham (religious dances) and witness the hanging of a thondrol (large religious painting).
The best time to visit Phobjikha Valley is between October and March.
There are several types of accommodation in and around Phobjikha Valley from hotels and resorts to camps and lodges. For an intimate experience with Phobjikha Valley locals, opt for a homestay in this beautiful valley. There are around 20 homestays dotted all around Phobjikha Valley.
The people of Phobjikha Valley follow a semi-nomadic way of life. You might spot the valley locals enjoying archery and dart throwing—a favourite pastime of Phobjikha Valley people.
A local handicraft you can take back from this valley are beautifully weaved carpets made at by the local women of Phobjikha Valley, which are available at Wangmo Hand-Woven Carpet Factory.
The beautiful Phobjikha Valley can be reached by bus and car. Buses ply from Thimphu to Phobjikha Valley twice a week. There is also a direct bus from Wangdue to Phobjikha Valley, which takes 4 hours. Travelling to Phobjikha Valley by cab is the best option. They are available from Thimphu and Wangdue.
It's usual for tourists to Phobjikha Valley to eat in their hotels or take a packed lunch if out exploring the endearing Phobjikha Valley.
Check out these interesting Bhutan packages, and make sure you choose the one that includes Phobjikha Valley.
---
Place of Interest / Things to do
Gangtey Monastery
It is one of the largest monasteries in western Bhutan. It is located 4 hours from the Phobjikha Valley. A traditional mask dance is hosted in the monastery during September and early October. It is worthwhile to visit the place during this season and witness beautiful dance performances. 
Time taken from Phobjikha Valley: 4 hrs
Kumbhu Lhakhang,Phobjikha Valley
From the Kuenzang Chholing Shedra, there is a dirt road by which it takes about 10 minutes to reach Kumbhu Lhakhang, which is dedicated to a deity of the ancient Bon religion Sipey Gyalpo. It is 2 hours away from Phobjikha Valley. It is considered to be spiritually refreshing to visit this place as it also doubles as a meditation center. However, in the event of rainfall, the dirt track might become impassable by car. Kumbhu Lhakhang is said to have been built by Tibetan sculptors in this beautiful valley, whose work can be seen in the temple design. 
Time taken from Phobjikha Valley: 2 hrs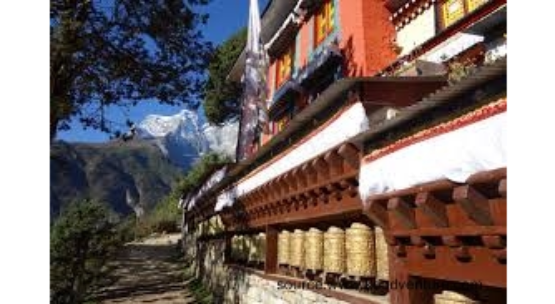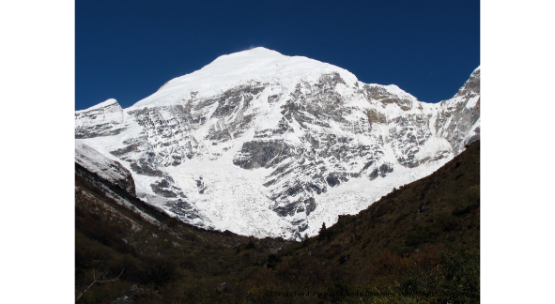 Jomolhari
Jomolhari is among the popular Bhutan tourist spots for its treks. Jomolhari trek, starting at Paro, is one of the most challenging treks of Bhutan. It is enchanting and rewards the trekkers with blissful views after a difficult trek. The trek is truly for the adventure enthusiasts and spans between 7-15 days on average. It is located 98 km from Phobjikha Valley

Nyelung Drachaling, Phobjikha Valley
This 14th Century Buddhist temple in Phobjikha Valley was founded by Kuenkhen Longchen Rabjam, a Nyingma Dzogchen master and treasure-finder. The chapel houses remarkable relics such as an old thangka painting whose back bears the handprints of Longchenpa printed in his own nose blood, a fossilised horse's tooth, a golden statue made in Longchenpa's own image, and an iron skillet made by Pema Lingpa, with his thumbprints in it.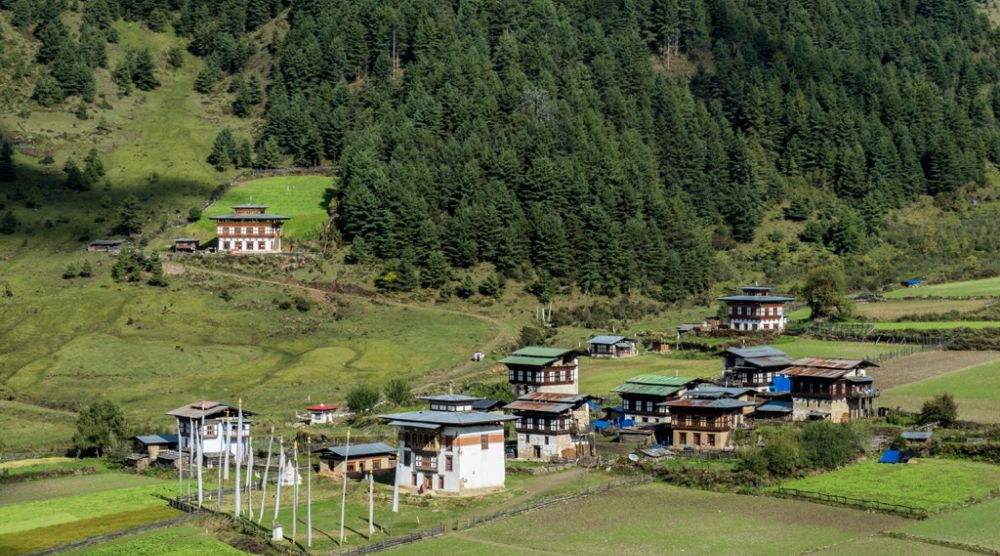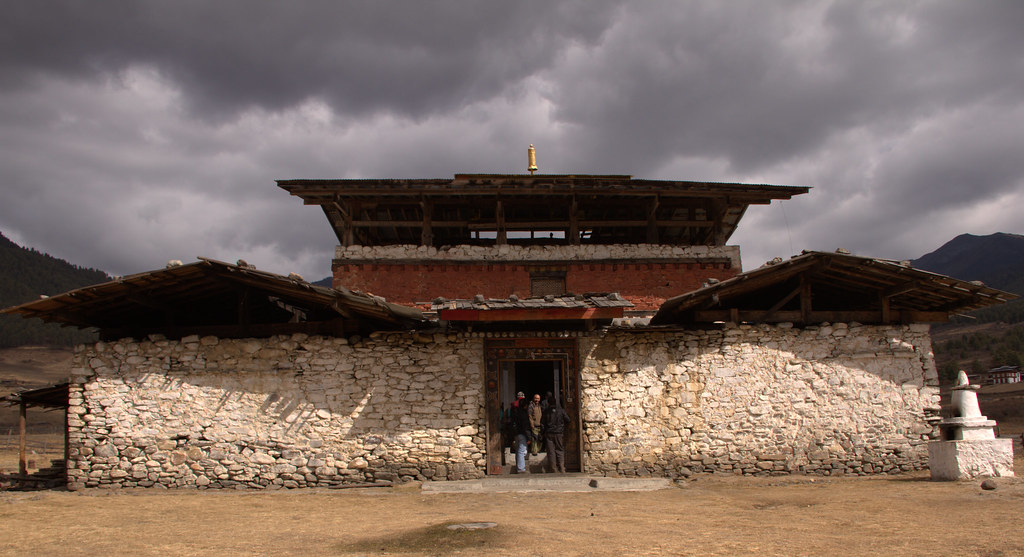 Khewang Lhakhang, Phobjikha Valley
Built in the 15th century, Khewang lhakhang is the oldest lhakhang in Phobjikha Valley. It is situated in the east side of Phobjikha Valley. 

Damcho Lhakhang, Phobjikha Valley
This Buddhist temple is situated on the west side of Phobjikha Valley and dates back to the 14th century. The road to this lhakhang goes past Yusa Village.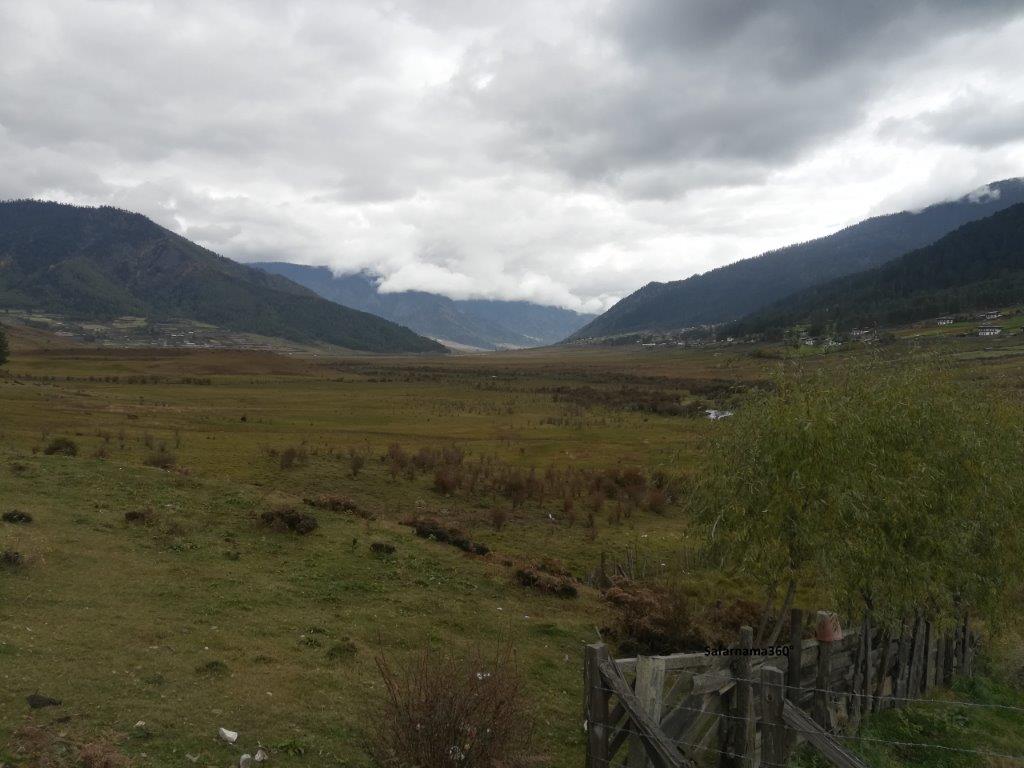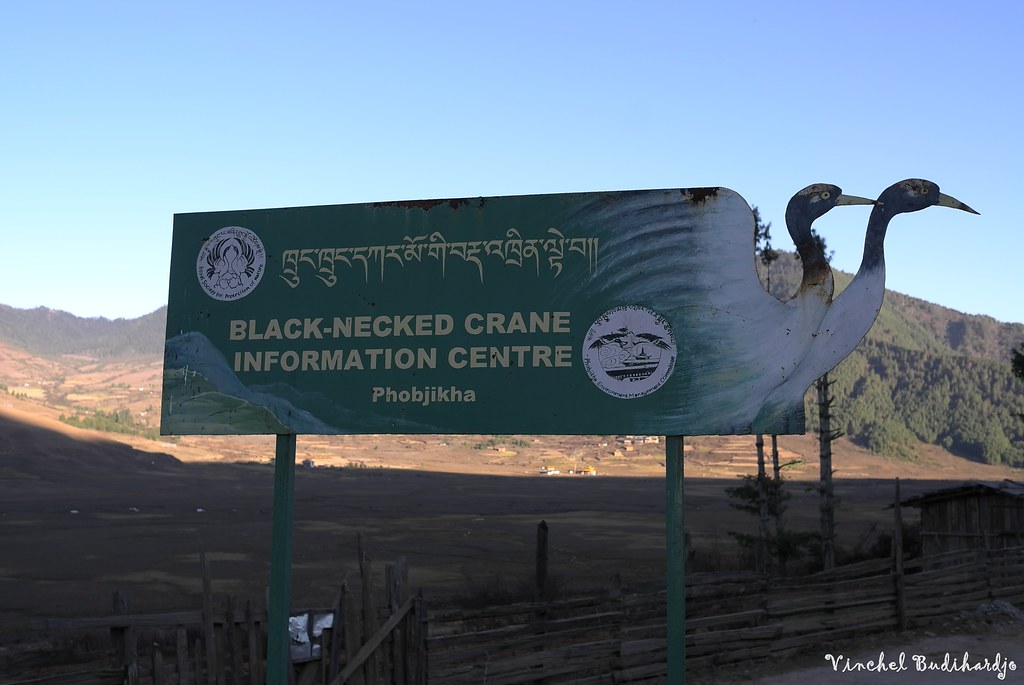 Black-Necked Crane Information Centre, Phobjikha Valley
Learn everything about black-necked cranes that migrate to this valley every winter and the Phobjikha Valley environment at the information centre of the Royal So¬ciety for Protection of Nature (RSPN).  The centre has telescopes as well as a library.

Wangmo Hand-Woven Carpet Factory, Phobjikha Valley
A must-visit if you're in Phobjikha Valley, Wangmo Hand-Woven Carpet Factory was started by a local woman called Dorji Wangmo in 1992. It was set up to empower local young women by training them in carpet making. You can buy beautifully weaved carpets with intricate designs and patterns at reasonable prices to take back home from this remarkable valley.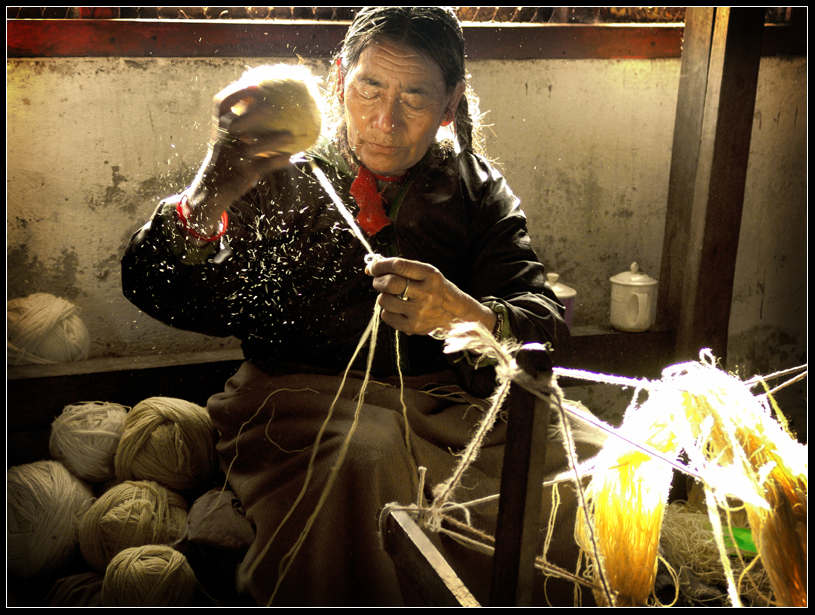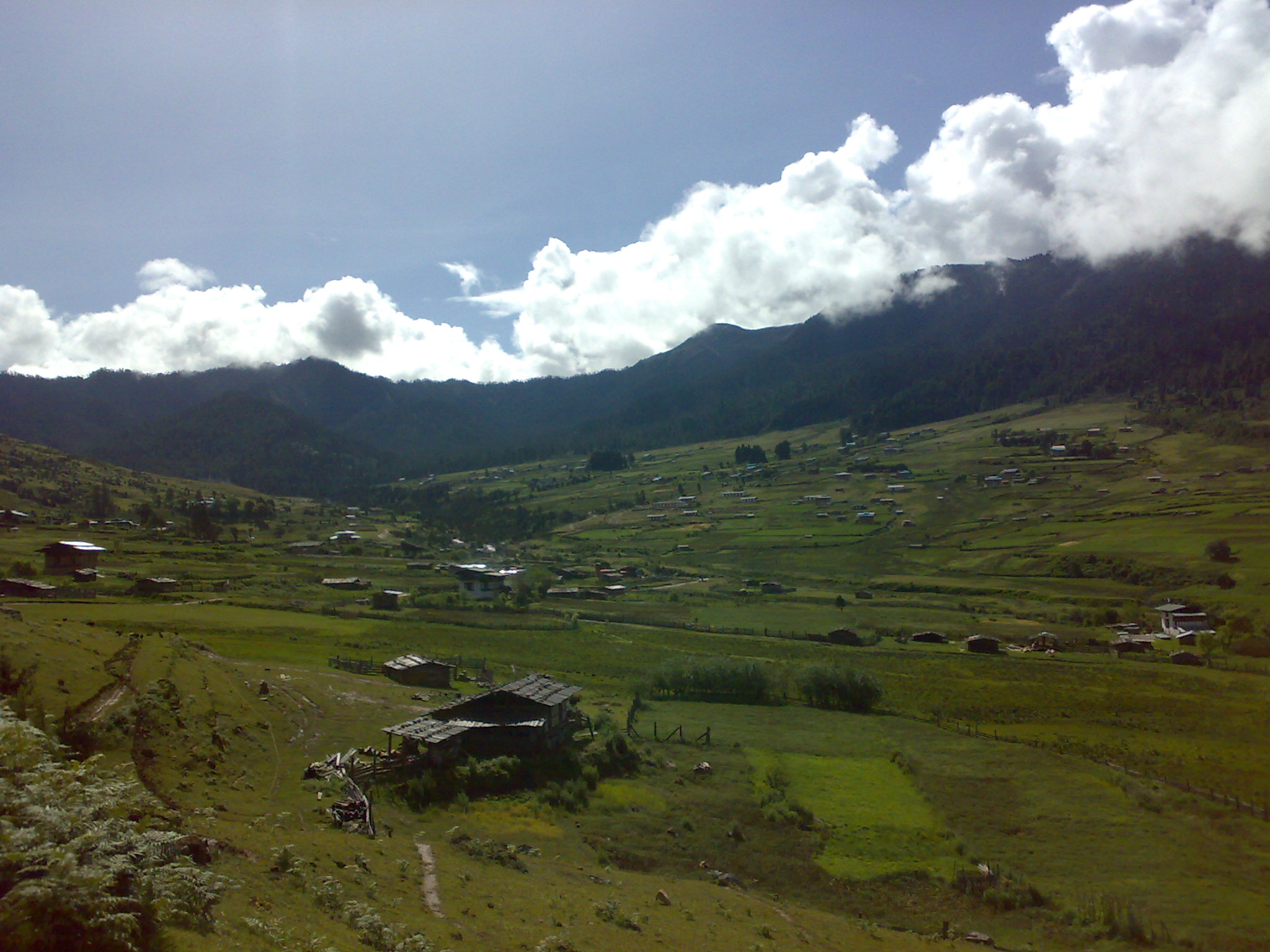 Gangtey Nature Trails and Hikes, Phobjikha Valley
Phobjikha Valley offers some wonderful trails for hikers and birdwatchers. A good option is a 90-min trail that starts from north of Gangtey Goemba to Khewang Lhakhang.

Kuezang Chholing Shedra, Phobjikha Valley
This educational institution provides education to around 300 Buddhist monks. Visitors are not allowed during the day when classes are taking place but upon advance request you may gain entry. The college is located to the north of Gangtey Goemba in Phobjikha Valley.