Bhutan honeymoon tour package
Duration :7 days, 6 nights
PRICE : Make enquiry to get price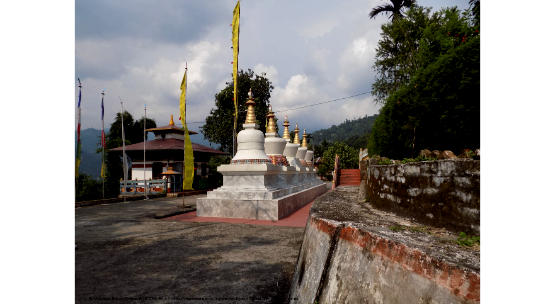 DAY 1:
Arrival at Paro International Airport (Bhutan) and Thimphu Sightseeing 
Once you arrive at Paro Airport (southwest Bhutan), you will be greeted by our cheerful TourGenie representative. He will be your tour guide and companion for the whole duration of your honeymoon trip.
You will then drive to the capital city of Thimphu, situated in western central Bhutan. 
Once there, you will check into a luxury hotel, chosen to give you the most relaxing honeymoon stay while you're in Bhutan. Kick off your honeymoon by putting your feet up and enjoying the wine and chocolates/cake awaiting in your room. After a delicious lunch you will head out for a sightseeing tour around Thimphu and witness a few iconic and stunning sites. Get your camera ready to take some lovely pictures for your honeymoon album. 
Memorial Chorten: The Memorial Chorten is a Tibetan-style stupa built in 1974 as a memorial to the third king of Bhutan, Jigme Dorji Wangchuck. It's an iconic religious landmark in Bhutan and also one of the tallest monuments in Thimphu. Inside, there are three stories, and on each floor are statues of protective deities.
Buddha Dordenma: The gigantic 42-meter-tall gilded bronze Shakyamuni Buddha statue is a striking feature to behold. What's interesting is that as many as 100,000 units of 8-inch-tall Buddha Dordenmas fill up the gigantic 42-meter-tall Buddha's body and lotus, whereas as many as 25,000 units of 12-inch-tall Buddha Dordenma reside along the walls of meditation halls inside His 20-meter-tall throne. Numerous Buddhas and Bodhisattvas statues are also installed in the interior.
Tashichho Dzong: The Tashichho Dzong is a Buddhist monastery cum fortress built on the western bank of the river Wang Chhu. The Dzong houses the throne room and the king's secretariat and is also home to several ministries of the Bhutanese government and the Central Monk Body. The monument welcomes visitors during the Thimphu Tsechu festival, which is held in autumn each year. 
Overnight in Thimphu
DAY 2:
Thimphu Sightseeing
Thimphu is the largest city in Bhutan and reflects a juxtaposition of ancient tradition and modernity. Today, you will visit some interesting places and get a glimpse of the culture and tradition of Bhutan besides an unusual-looking animal.
Start off the second day of your honeymoon with a wonderful tour of the following places:
Kuensel Phodrang: The Kuensel Phodrang or the Buddha Point is the world's largest sitting Buddha statue, towering 167 feet high. The statue is situated on top of a hill overlooking the city of Thimphu. The word Kuensel means everything is clear, and from this place you will enjoy a great view of the Thimphu Valley on both sides.
Motithang Takin Preserve: The Motithang Takin Preserve also known as the Thimphu Zoo by many is a small natural preserve for "Takin," Bhutan's national animal. Many have been puzzled over its resemblance- a goat, antelope or both? We'll leave it to you to figure it out. In addition to the Takin, there are a few musk deer and barking deer that live inside the preserve.
Simply Bhutan: This is a unique place that aims to conserve the culture and tradition of Bhutan. The infrastructure portrays ancient Bhutanese architecture, and the uniqueness of the structure is in its composition of the materials used such as reused old timber, window and door frames, and other items from traditional and old demolished houses. The best part is the portrayal of the age-old lifestyles of the Bhutanese people. You will get to witness a traditional cultural performance of Bhutanese folk song and masked dance.
Overnight stay in Thimphu. 
DAY 3:
Thimphu – Punakha
You will be leaving Thimphu for Punakha today. The weather in this quaint little town in western Bhutan is pleasantly warm year round due to its lower elevation. You will come across some of the most scenic surroundings here that are a honeymoon photographer's paradise.
On your way, you will stop at Dochula Pass (3150m). On a clear day the pass offers visitors a spectacular view of the majestic eastern Himalayan ranges. There is a small cafeteria located just off the road and overlooks the pass and is an ideal place to sit back, relax, and enjoy the view. Another striking feature at the pass is the 108 Druk Wangyal Khangzang chortens.
You will continue your drive towards Punakha and stop at Lobesa village. Here you will have lunch before going for a short hike to Chimi Lhakhang (Temple of Fertility). This temple is dedicated to Lam Drukpa Kuenley (Divine Mad Man) and is the place from where phalluses originated as the symbol of fertility and protection and can be seen everywhere in Bhutan—on house walls and roofs and altars. 
Your last halt is at Punakha Dzong, which is located at the confluence of the Mo Chhu and the Po Chhu rivers. It is one of the most important dzongs in Bhutan and also the most impressive.
Overnight stay in Punakha
DAY 4:
Punakha Sightseeing
There's so much to see in Punakha, and we believe that the best way to experience some of these sites is by hiking to them. Some monasteries in Bhutan are accessible only by foot.
After breakfast, depending on how adventurous you feel as a honeymoon couple, you can either hike or drive to Khamsum Yulley Temple. The hike takes about 45 minutes one way through a relatively easy path through paddy fields and thin pine forest. It is believed that all the unique architectural designs of the Khamsum Yulley Namgyal Chorten have been drawn from the scriptures. You can enter the stupa and climb all the way to the top for a breath-taking view of the valley below.
After spending time at the beautiful chorten, you will head for lunch. Look forward to sampling some unique delicacies from this region of Bhutan.
After lunch, you will visit Sangchen Dorji Lhuendrup Nunnery. This is a temple plus nunnery perched on a ridge overlooking Toebesa, Punakha, and Wangduephodrang valleys. A unique feature of this monastic complex is the carved black marble blocks surrounding the stupa depicting the 84 Mahasiddhis, 16 Arhats, and the great lamas of Drukpa Kagyu lineage.
Overnight stay in Punakha 
DAY 5:
Punakha – Paro
Paro is a historic town in southwest Bhutan, with many sacred sites and historical buildings. Paro is quite famous for the hike toTiger's Nest. 
After breakfast, you will trace the road back up to Dochula Pass and then to Thimphu where you will have lunch. Soon after, you will continue your journey towards Paro but make several halts before reaching the verdant valley.
Tamchog Lhakhang: This is a private temple, and it can only be reached by crossing an iron chain bridge. Crossing this very old bridge with its swaying and undulating movements can be quite an experience. The temple's location on the ridge and the high rocky barren hills, which serve as its backdrop, makes this a good location to take pictures.
Kyichu Lhakhang: Considered the oldest temple along with Jampa and Kenchosum Lhakhang in Bumthang, it dates back to the 7th century when a Tibetan king ordered 108 temples to be built in a single night to subdue a huge ogress. Inside the compound is an orange tree that always has oranges no matter what the season.
Ta Dzong (National Museum): The name Ta Dzong translates to "watch tower," and it served the function of watch tower for the Paro Rinpung Dzong. Presently serving as the national museum, it houses an array of antiquities such as ancient thangka (exquisite scroll painting), mural paintings, and other natural and historical artifacts of Bhutan.
DAY 6:
Highlights of the Paro Valley–Taktsang Walk
When in Paro do what everybody does—hike to Tiger's Nest! We know you're looking for a relaxing honeymoon but this just can't be missed! 
You will be starting early today for the two-hour climb to the Tiger's Nest viewpoint. We promise you, the view from up there is worth the hike. One hour into the climb there is a tea point from where you get a very good view of the monastery; you will have your lunch here. From there it's about another 45 minutes climb to the 2nd view point and the highest point in the hike.
After heading back to your hotel, unwind with your partner by indulging in a Bhutanese hot stone bath. 
In the evening you are invited for a candle lit farewell dinner at the in-house restaurant. 
Overnight stay in Paro.
DAY 7:
Depart Bhutan
It's time to say goodbye to Bhutan and drive to Paro Airport. We hope you were able to make some wonderful memories of your honeymoon in the Land of the Thunder Dragon, and we look forward to becoming your travel partner once again. 
Note: Druk Air normally departs from Bhutan in the morning, so after breakfast your 10 minute transfer to Paro International Airport will be arranged depending on the flight schedule. 
INCLUSIONS
Double deluxe rooms in 4 star Hotels. 
Breakfast and Dinner in 4 star Hotels.
Certified English Speaking guide.
Dedicated vehicle for whole tour.
EXCLUSIONS
GST @ 5 % or as applicable 
Sightseeing entry fees, guide charge, Camera fee, any up-gradation charges
Cost for Evening snacks & Tea
Cost for service not mentioned under the "cost includes" heads.
Cost for airfare, train fare or any other internal fare.
Personal expenses such as laundry, soft drinks, mineral water, porter, tip etc.
Expenses incurred due to change in oil price, mishaps, landslide, strike, political unrest etc. In such case, extra will be charged as per actual which will be collected directly from the guest.
Difference in cost arising due to change in fuel price.
Difference in cost arising due to extra usage of vehicle other than scheduled mentioned in the itinerary.
ENTRY POINTS
Paro airport
Hasimara railway station
Phuentsholing Bus stop