Vaishnavite Tour
Duration :15 days, 14 nights
PRICE : Make enquiry to get price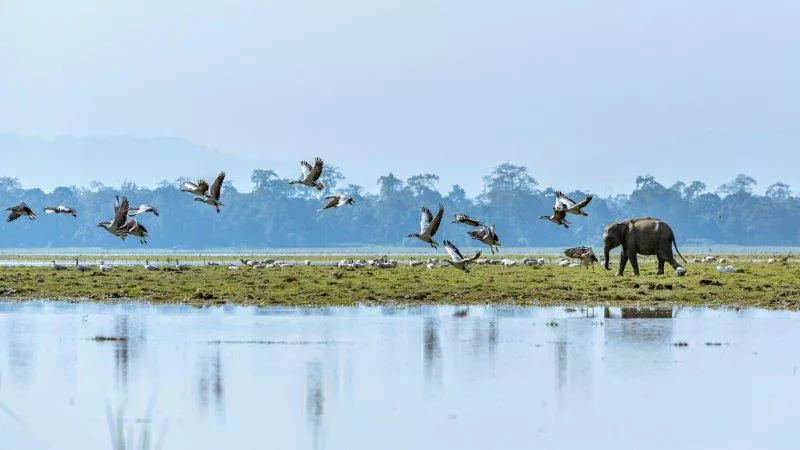 DAY 1:
Arrival
Arrival Johrat by flight, drive into Thengal Mansion, a historical Tea Planter's house 15 kms from Jorhat. 
After lunch and rest, take a walk in a nearby village to see the simplicity of their lives. 
Overnight at Jorhat.
DAY 2:
Jorhat - Sibasagar
Early in the morning you will depart for Sibasagar(50km), the ancient capital of Ahom Kingdom (1699-1788). 
Taking a brief rest on arrival you will visit some of the significant archaeological sites in Sibasagar viz. Shiva Doul, Vishnu Doul and the Tombs of Ahom Kings and Queens in Charaideo Hillock amidst the eternal peace of beauty and silence. 
Return to Jorhat for overnight stay.
DAY 3:
Sibsagar - Majuli
Early morning drive to Majuli the 'Biggest River Island' in the world and seat of Vaishnavite culture en route crossing mighty Brahmaputra River by ferry. In the evening enjoy a cultural presentation at the monastery. 
Overnight at Majuli.
DAY 4:
Majuli Sightseeing
Early morning visit to the satras to attend a prayer meeting. A Monk from the satra will guide you in and around to tell about the evolution and history of Vaishnavite culture in Assam. 
Post breakfast, you can explore this Biggest river Island in the world of 880 Sq Kms which at one time used to be of 1200 sq Km plus. 
The Island has recently been notified as 'World Heritage Site' by UNESCO for its unique preservation of Vaishnavite Culture. 
Overnight at Majuli.
DAY 5:
Majuli - Kohima
Early morning, drive to Kohima, the capital of Nagaland, home of over Sixteen Naga tribes with their distinct cultural identity and fiercely independent nature. E
En route visit Dimapur, the gateway to Nagaland. 
On arrival proceed to Touphema Village Resort run by Angami Naga village community. 
Enjoy cultural presentation by village folks. 
Overnight at Touphema Tourist village.
DAY 6:
Touphema - Kohima
Explore the village in the morning hours. 
Post breakfast check out of the village resort & drive to Kohima. Visit WWII cemetery, where lays the remains of valiant soldiers who laid down their lives in defending the world from Japanese aggression in World War II. Kohima is the frontier town of Eastern front where the invading Japanese were halted during world war II. 
Also visit, Barra Basti, the zoo, Viswama village of Angami tribe and some other prominent places in and around Kohima. 
Overnight at your hotel in Kohima.
DAY 7:
Kohima – Imphal
We will move to Imphal, the capital of Manipur, with wooded hills and lakes nearby. 
Check in to your Hotel. 
In the evening visit the Vaishnavite Shri Govindji Temple and experience the charm of a ceremonial dance held at the temple. 
Overnight stay at Imphal.
DAY 8:
Imphal Sightseeing
After breakfast we drive to Loktak Lake, the largest fresh water lake in the North East and Sendra Island, a small islands that are actually floating weeds. 
Keibul Lamjao National Park the only floating island park in the world that is natural habitat of Sangai Deer of Manipur. 
Have lunch in the park and proceed to Vishnupur to visit the Vishnu Temple, famous for the built in Chinese architecture having the single celled conical roof and drive back to Imphal. 
Overnight at hotel in Imphal.
DAY 9:
Imphal - Kaziranga
Early in the morning drive to Kaziranga(399km). Check into Tourist Lodge and have a leisurely time and serenity amidst the wild.
Overnight at your hotel in Kaziranga.
DAY 10:
Kaziranga Sightseeing
Early morning explore central area of Kaziranga National park on an elephant safari. Ride an Elephant through the park chasing a unicorn rhino along with a wide range of rare species. 
Post Breakfast take jeep safari to the central area of the park. Rest of the day at leisure to explore nature. 
Overnight at hotel in Kaziranga.
DAY 11:
Kaziranga - Guwahati
Early morning depart for Guwahati. 
Enroute visit Bordoa, birthplace of His Holiness Shankardeva. Who was profounder of Vaishnavite cultural revivalism in Assam and North Bengal in the 14 the Century. 
On arrival at Guwahati check into your hotel and take a brief rest.
In the evening visit Kalakhsetra, a modern day center of Assamese culture. 
Overnight at hotel in Guwahati.
DAY 12:
Guwahati - Barpeta
Early in the morning move to Barpeta(139km). 
Visit different 'Satras'. In the evening enjoy cultural event presented by the local artists at the Satra premise. See some of the classical dance and drama forms of Assam. 
Overnight at Barpeta.
DAY 13:
Guwahati Sightseeing
Visit Satra early in the morning and attend 'Prasanga', morning prayers and get blessed. 
Depart for Guwahati. 
Spend a leisurely afternoon or go for shopping. 
Overnight at Guwahati.
DAY 14:
Guwahati Sightseeing
Post breakfast go for a visit to Basistha Ashram, a Picturesque old shrine through which flow three streams -the Sandhya, Lalita and Kanta. 
Post lunch we will board on a ferry and reach for Umananda. Located on the Peacock Island it appears to be the crown of the island. 
In the evening anything go for cruise on river Brahmaputra. 
Overnight at Guwahati.
DAY 15:
Departure
Transfer to Airport for your onward travel.
INCLUSIONS
Accommodation on twin sharing basis on bed & breakfast basis.
Transport in SUV or similar vehicles as per the itinerary
Porter age charges  
All parking and road tolls
Inner Line permit if required
EXCLUSIONS
5% GST
Train / Flight fare
Travel insurance
Personal expenses
Laundry, souvenirs 
Beverages
Anything not mentioned in the tour cost inclusion head
ENTRY POINTS
Lokpriya Gopinath Bordoloi International Airport (Guwahati)
Guwahati Railway Station
ISBT (Guwahati)