5 Nights Brahmaputra River Cruise
Duration :6 days, 5 nights
PRICE : Make enquiry to get price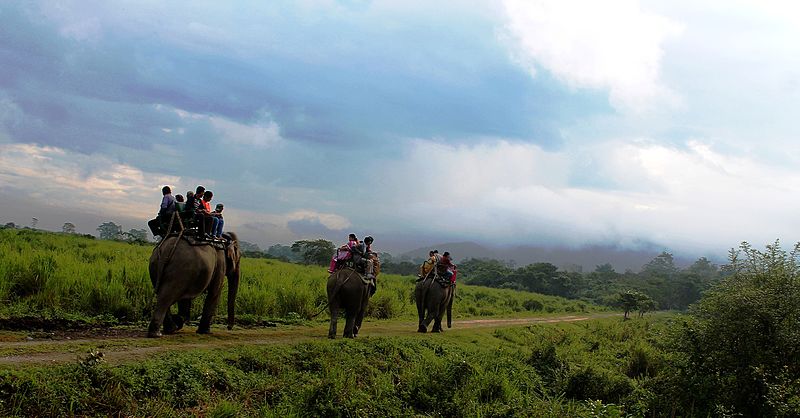 DAY 1:
Arrival

On arrival at the airport, we will meet you at the receiving area with packed lunch. The drive to Silghat takes us about 5 hours. On arrival at Silghat, you will be welcomed on board the Cruise ship. Post Check in take a short drive to Kaliabore Tea Estate which has vast expanse of undulating estate with tea plantations.
Proceed to the tea factory to see the process of finally producing Assam Tea and coming to terms with 'all that goes into preparing a cup-of-tea. (The tea factory is not operational from mid- December to mid -February as the tea is at its dormant stage during this time of the year)
Close to the pier is a co-operative Jute Mill which is an interesting place to understand how the Jute fibre is knitted in to gunny bags. By sunset, you will enjoy a cultural evening on the ship. You will have an early dinner and retire for the evening.
Overnight on-board Cruise ship.
DAY 2:
Kaziranga Safari
Post Morning Tea and light snacks, drive out towards the Kaziranga National Park.  The Park is home to as many as 180 different mammals including wild elephants, tiger, deer, Asiatic wild buffalo and a rich variety of birds besides the famed one horned Rhino.
From Kohora Mihimukh range of the National Park start morning adventure, elephant-backed safari for sighting  the elusive rhinoceros, tigers, swamp deer and hog deer and more and a large number of very interesting birds. 
After breakfast at a resort in Kaziranga, drive on to Bagori, the Western Range of Kaziranga and get into the open jeeps for some more wild life adventure and an extensive coverage of this magnificent park.
Return to Cruise ship for a leisurely lunch and a relaxed afternoon.

(In October and May when Kaziranga National Park is closed we do a short Jeep Safari in the outer area of the Kaziranga National Park.  Elephant safari is not possible but one can opt for elephant joy ride on the outskirts of the park.  During these two months we have an additional Boat Safari in a very picturesque area at the confluence of Diphlu and Brahmaputra River.)
Evening get together for some discussion on 'Silk in Assam'.  Get into the tenders to reach the shores of Bishwanath Ghat.  We visit the Shiva Dol in reverence of Lord Shiva and enjoy a walk through the village and see how this suburban village thrives. Return to the ship to enjoy an evening on a deserted island and then proceed to a scrumptious dinner.
Overnight onboard Cruise ship
DAY 3:
Kaziranga Safari
This morning Cruise ship sails early towards the Eastern Range of Kaziranga for boat Safari.  Enjoy breakfast and a discussion on 'The River Brahmaputra and the life that exists alongside'. 
Proceed for the safari in our tenders for about two hours.  The shores are high but one can see roof turtles on protruding drift wood, water lizards, otters, elephants, wild buffaloes, rhinos, darters, herons, pied kingfishers, white throated kingfishers, serpent eagles and many more.  We return for lunch.
This evening we enjoy the Chef's Cooking Demonstration and sample the snacks followed by a leisurely evening on a deserted island with Cruise ship. The bonfire is always unusual.
Overnight on-board Cruise ship.

DAY 4:
Majuli
After Yoga and breakfast enjoy a discussion on 'Majuli the seat of Neo –Vaishnav Culture' and then enjoy the sail towards the Mishing Village. The Mishings live on the bank of river in 'Chang ghars', houses with raised platform.  All Mishing women are expert weavers. 
Carrying some cash would be a good idea to buy the ethnic colourful cotton weaves. A  demonstration on Dhoti Tying and Mekhela Chaadar wearing will also be given at this village. Return to enjoy a discussion on 'Sibsagar and the Ahom civilization' and proceed to prepare for a Traditional Assamese evening.
Overnight onboard Cruise ship.
DAY 5:
Sibsagar
After breakfast enjoy a discussion on 'Majuli' the seat of Vaishnav culture and you may then proceed in our tenders to the mainland where a drive takes us to a scenic corner of a Satra for an interesting cultural performance by Satriya singers and dancers. 
Next drive to Kamlabari Satra to witness the Vaishnavite priests dancing to the rhythm of cymbals, drums and chanting in the temple premise.  Hot lunch on Cruise ship while sailing towards Neamati Ghat. 
Drive through the countryside to reach Sibsagar, the ancient city of the Ahom Kings; a town that literally means 'the ocean of Lord Shiva'.  Sibsagar was the capital of the Tai-speaking Ahoms who came in the 13th Century AD to the area from the north-east and were essentially of Tibeto-Burman origin. Then visit Talatal or KarengGhar which was the palace of the Ahom Kings and after a leisurely stroll in and around the monument go on to Rang Ghar which was a place for hosting wrestling bouts and buffalo fights and other entertainment or important meetings of the Royals and their guests.
We return to Cruise ship by sunset and enjoy the farewell dinner.
DAY 6:
Departure
Start the day with Yoga and/or go for a nature walk along the swamps to catch a sight of owls, aureoles, yellow footed green pigeons, changeable eagles, adjutant storks, quails, sea gulls hunting with the dolphins and pied kingfishers, swallows and martins diving to fish. Have a relaxed breakfast.
The luggage is brought out of the cabins according to the flight schedule. Arrive at the Rowriah Airport in Jorhat a couple of hours before the flight schedule and bid adieu to the land of Ahoms.

INCLUSIONS
• All applicable transfers & sightseeing by Tata Sumo/ Innova as per the itinerary, not at disposal.
• Accommodation on the mentioned hotels for duration mentioned in the itinerary.
• Meals on CP / MAP / AP basis.
EXCLUSIONS
• GST @ 5 % or as applicable.

• Sightseeing entry fees, guide charge, Camera fee, any up-gradation charges.
• Cost for service not mentioned under the "cost includes" heads.
• Cost for airfare, train fare or any other internal fare.
• Personal expenses such as laundry, soft drinks, mineral water, porter, tip etc.
• Difference in cost arising due to change in fuel price.
• Difference in cost arising due to extra usage of vehicle other than scheduled mentioned in the itinerary.
ENTRY POINTS
Lokpriya Gopinath Bordoloi International Airport (Guwahati)
Guwahati Railway Station
ISBT (Guwahati)